[ad_1]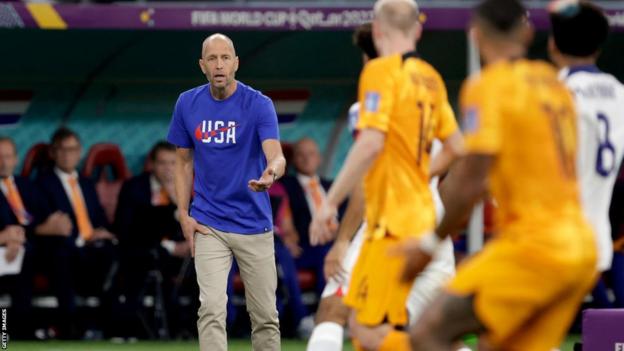 United States head coach Gregg Berhalter has admitted he kicked his wife in an argument when they were teenagers.
The 49-year-old is now under investigation by US Soccer after an allegation was made against him.
In a statement on Tuesday, Berhalter said he had been contacted during the World Cup by someone saying they were going to 'take him down'.
"There are zero excuses for my actions that night," he said.
The statement, co-signed by his wife Rosalind, shared details of the incident which happened in 1991.
"We had been dating for four months when an incident happened between us that would shape the future of our relationship," the statement read.
"One night, while out drinking at a local bar, Rosalind and I had a heated argument that continued outside. It became physical and I kicked her in the legs."
Berhalter said Rosalind "wanted nothing to do" with him immediately after the incident but they met seven months later to rebuild their relationship.
They have been together since and celebrated their 25th wedding anniversary over the New Year weekend.
A US Soccer statement, released on Tuesday, read: "Upon learning of the allegation against US Men's National Team head coach Gregg Berhalter on Dec 11, 2022, US Soccer immediately hired Alston & Bird LLP to conduct an independent investigation into the matter.
"Through this process, US Soccer has learned about potential inappropriate behaviour towards multiple members of our staff by individuals outside of our organisation.
"We take such behaviour seriously and have expanded our investigation to include those allegations.
"We appreciate Gregg and Rosalind coming forward to speak openly about this incident. Consistent with our commitment to transparency, we will share the results of the investigation publicly when it is complete.
"US Soccer condemns violence of any kind and takes such allegations very seriously."
Berhalter, whose contract expired at the end of December, said he has fully cooperated with the US Soccer investigation.
US Soccer added it would announce who would be taking the men's national team for their January camp, where they will play against Serbia and Colombia, in the coming days.




[ad_2]

Source link